The Junior Assembly of Athens, Georgia, chartered in 1935 when the population of Athens was less than 20,000, was created by 25 young matrons as a channel through which their leisure hours could be used to meet welfare needs of the town.
Within ten years, the Assembly became the county's chief source of charity, maternity and baby care. Its first project, maintenance of a charity bed at Athens General Hospital, was begun in 1935 and continued for 20 years as a fund for payment of charity maternity cases. A weekly Well-Baby clinic begun in 1938 and a Pre-Natal Clinic begun in 1939 were operated for 17 years, with the cooperation of local doctors and county nurses.
To finance its first ten years, the Assembly sponsored movies for children, fashion teas, contests, and in 1940, its first Cargill "Follies."
At the April 1944 meeting, Mr. Max Michael outlined his family's plan to construct for the Assembly a clinic building as a memorial to his son, Simon Michael II. Built on city property facing Hancock Street and dedicated in March 1946, this heroic gift provided the assembly's single greatest impetus – all clinics were expanded and in 1948, 22,238 patient visits were logged. The Michael family had continued throughout the years with periodic gifts.
Other clinics were set up the following years – the Heart Clinic was begun in February 1950; the Speech School, in April 1950. In 1952, a Walking Blood Bank was created; the same year saw the beginning of an Eye, Ear Nose and Throat Clinic. A nursing Home Visitation Program was instituted in 1957. The Hospital shop at Athens General Hospital was established.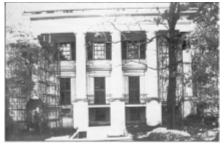 By its 25th anniversary in 1960, the Junior Assembly was financing and operating weekly health clinics with 5,708 annual patient visits, plus some 600 annual sessions in nursing homes, children's theater groundwork, and other aid programs. "A Cook's Tour of Athens" was first published in 1963, with reprints in 1965, 1968, 1972, and 1975. The search for a permanent Assembly home, long desired, began in earnest in 1965, with plans to restore a historic landmark for the purpose. When efforts to secure the Brumby House failed to materialize, the Assembly began to negotiate with the city of Athens to lease the boyhood home of Henry W. Grady on Prince Avenue. A new era was introduced in 1968 with the signing of the Taylor-Grady House lease. Restoration began, and this Greek Revival House was included in the 1969 Spring Tour of Homes.
By 1970, the Taylor-Grady restoration was virtually complete. The main rooms were redecorated, the kitchen modernized, air conditioning installed, and Women's Exchange (a consignment shop) was in operation in quarters beneath the kitchen. A patio and brick walks were constructed. Landscape plans from the UGA School of Environmental Design were being implemented by the Junior Ladies Garden Club. A hostess was hired to give tours and great visitors, and rentals for civic and private functions were being booked.
During the "nest-building", a frenzy in the late '60's and early 70's, members continued to staff the Assembly's eight clinics. In 1970-1971, 85 Actives and 11 Provisionals gave over 10,000 hours to clinic and committee tasks.
In September of 1978, the Assembly submitted an application for membership to the Association of Junior Leagues. Two official AJL visits were made in 1979, with AJL affiliation becoming more imminent. Over 40 former members of the Assembly accepted the Assembly's offer of mass reinstatement prior to the first AJL orientation program in May. In 1980-81, the Junior Assembly completed its affiliation with the Association of Junior Leagues. On October 28, 1980, following an Association vote and a vote by the membership, we became the 243rd Junior League in the Association of Junior Leagues, and were incorporated as the Junior League of Athens, Georgia, Inc. With this affiliation came the literal broadening of our horizons, with a number of delegates attending state, regional, and national conferences.